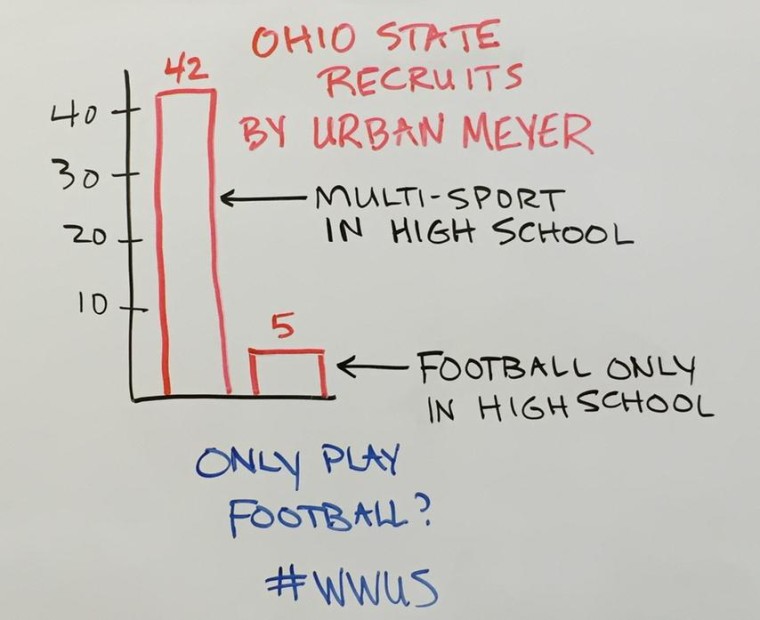 Are You a Multi-Sport Athlete?
Coal Cracker Kids Speak Out
By Meredith Rhoades
A big topic in sports circles today is multi-sport athletes. From the professional level to college, all the way down to middle school, it's a hot button item.
Should middle and high school student athletes specialize in one sport or diversify into multiple sports throughout the year? I personally have heard and read many strong opinions and arguments from both sides.
One of the main points in the arguments, for both sides, is whether or not the choice will increase or decrease a student's chance at a college scholarship. The cost of college continues to increase with annual costs for public schools averaging over $17,000 and private schools averaging almost $49,000, according to the fall 2014 U.S. News & World Report Best Colleges Rankings.
Many parents look at the financial burden and hope that an athletic scholarship can minimize or eliminate the high cost of sending their child to college. They then encourage or force their child to concentrate on one sport, hoping to improve the chance of getting a scholarship.
On the other side of the issue, supporters of the multi-sport theory argue that diversifying into many sports can show scouts and coaches that an athlete has more skills than just the ones specifically for the sport they are recruiting. It also helps recruiters realize that you can play for fun and enjoy simply being an "athlete."
In a recent High School Sports Stuff blog, I read that one of the first questions college coaches ask high school coaches is: "What other sports do they play?" Instead of looking for kids with sport-specific skills, they look for kids who know how to deal with adversity, kids that can respond in pressure, that can work together with teammates, and that can play and compete with anyone.
Ask any coach from Division I to Division III and more likely than not they will say they prefer a multiple-sport athlete that works hard and knows how to compete in everything they do. The blog cites data from the current NCAA Division I National Football Champions, Ohio State University, where 42 of 47 players recruited by head coach Urban Meyer were multi-sport athletes in high school.
Where do I stand on the issue? Well, I never gave it a serious thought when starting my athletic activities at an early age, but since I've done gymnastics, play soccer and basketball, as well as run track, I guess my actions put me on the pro multi-sport side.
However, I can refer to people I know and see good examples on both sides. Tyler Cavenas, Mahanoy Area High School class of 2013, was a multi-sport, all-state athlete at Mahanoy Area High School, playing football, basketball and track and field. He received a scholarship to play football at prestigious Lehigh University.
Then I see my uncle, Mike Rhoades, Mahanoy Area High School class of 1991, succeeding as head men's basketball coach at Rice University. He was a multi-sport star up to his freshman year in high school, then in his sophomore year he decided to put all his effort into basketball. It seemed to work out for him.
On either side there are pros and cons, so it really comes down to what kind of athlete you want to be.
So, are you a multi-sport athlete? Should you be?