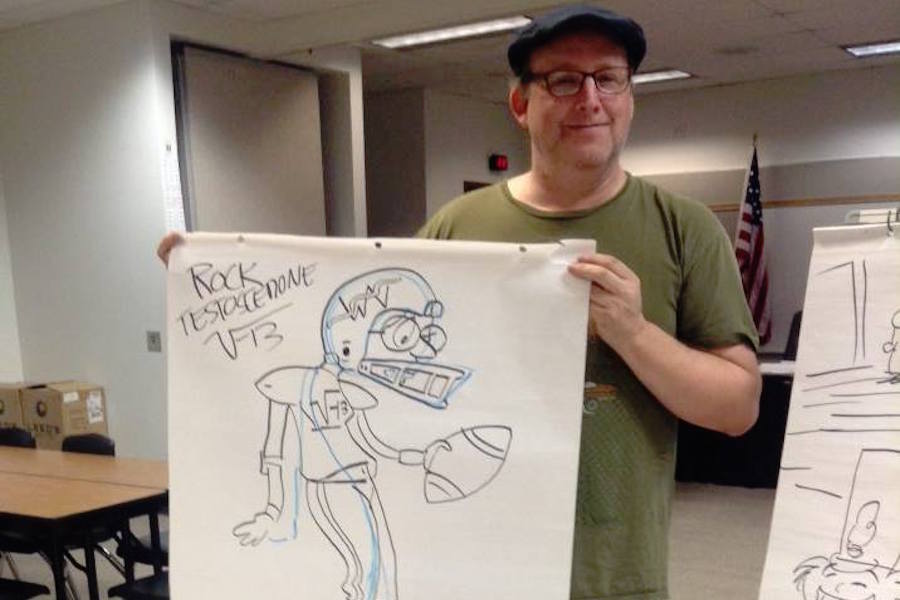 Comic Books from the Coal Region
By Serena Bennett
Graphic Novelist Jimmy Gownley Talks Creativity
Coal Cracker recently spoke with Jimmy Gownley, a New York Times bestselling author and illustrator originally from Girardville, PA. Gownley is well known for award-winning comic books such as "Amelia Rules", which earned 13 Eisner nominations and 6 Harvey nominations. It was named a Junior Library Guild selection four times, has been translated into several languages, and won the 2007 Cybil award for best graphic novel.
Gownley began writing comic books at the age of 15, selling his self-published "Shades of Gray" out of his locker at Cardinal Brennan High School. His latest book, "The Dumbest Idea Ever!," is a memoir about his experiences as a teenage cartoonist.
Gownley now resides in Harrisburg with his wife and daughters. They often visit family in Girardville.
During a phone interview, he gave us some insight on his upcoming books and even some advice for future writers!
Coal Cracker: Are you working on any new books?
Jimmy Gownley: Yes, it's called "Seven Good Reasons Not to Grow Up." It isn't going to be out until October of 2017 because publishing moves reeeaaaaally slowly. That's good though because I'll have more time to make it the best it can be. I think it's the funniest thing I've done so far.
CC: What was your most successful book?
JG: "Dumbest Idea" probably, but it's hard to judge that because there are some Amelia books that have made The New York Times Best Seller list and won a Children's Choice Book of the Year award. There have been books that have been translated into a bunch of different languages. The cool thing about comics though is that I was successful when I was 15 and published that first one because I did what I set out to do. So really every book after that is just a slightly bigger—or a lot bigger—version of that. I think that's important to remember because if you're doing it and your scale of success is just money or critical awards then you're never going to be happy. If you say, "I just wanna make the best thing I can make," then you'll be a much happier person and you'll probably be a better artist.
I think generally if people are saying, "I'm gonna do this and I'm gonna make the bestseller list and get awards," then it's probably not going to work anyway. You're just going to be guessing, and probably guessing wrong. I honestly think the most successful thing I did was the first thing I did, and I just sold it out of my locker! I sold 57 copies!
CC: Are you most proud of your first book?
JG: No. Gosh, no. I'm proud of the fact that I was good enough to do it and that I worked hard to finish it and that I was brave enough to put it out there. I wouldn't necessarily want people to read it now because, of course, it reads like a 15 year old wrote it. Hopefully the book I'll be most proud of is the one I'm working on now. Then when I get that one done, hopefully the one I'll be most proud of is the one I'm working on next. Hopefully it's always the one I'm doing at the moment.
CC: There seems to be a certain Coal Region mentality that no one from around here really goes out and does anything. Can you talk about your experience of this or your feelings about it?
JG: That was true when I was a kid, too. The downside is that you feel isolated; you feel like you're in a really small place and there's no chance of getting out into the bigger world. What's amazing though is that there's an upside to that. You're in a place that is small so you can try pretty much anything and the world doesn't have to know about it. Generally, it's still a place of family and friends that are pretty supportive. I've said many times that if I grew up in New York City I would have had access to art schools and museums and all that stuff but I don't think I would have become a cartoonist because I wouldn't have been anywhere near the best artist around. But I was probably the best artist in my grade school because I was the only one who drew. There were only 30 kids in my class. It was a really small school. That's the upside, if you can enjoy and embrace the smallness of it but still believe in yourself that you can be bigger if you need to be.
CC: What advice would you give to a young person in the Coal Region who is interested in art or creativity?
JG: You gotta embrace it. People are mostly supportive but they also say, "We've gotta keep you down to earth." You don't really have to keep people down to earth for the most part. I think if somebody has a talent, they should let it shine!
CC: Do you have any advice for aspiring writers?
JG: Just do it and set a goal you can achieve and see that goal to completion. Then get started on the next book.
CC: Thank you so much for your time.
JG: Thank you! Those were great questions; better questions than I get sometimes from big professional interviewers.