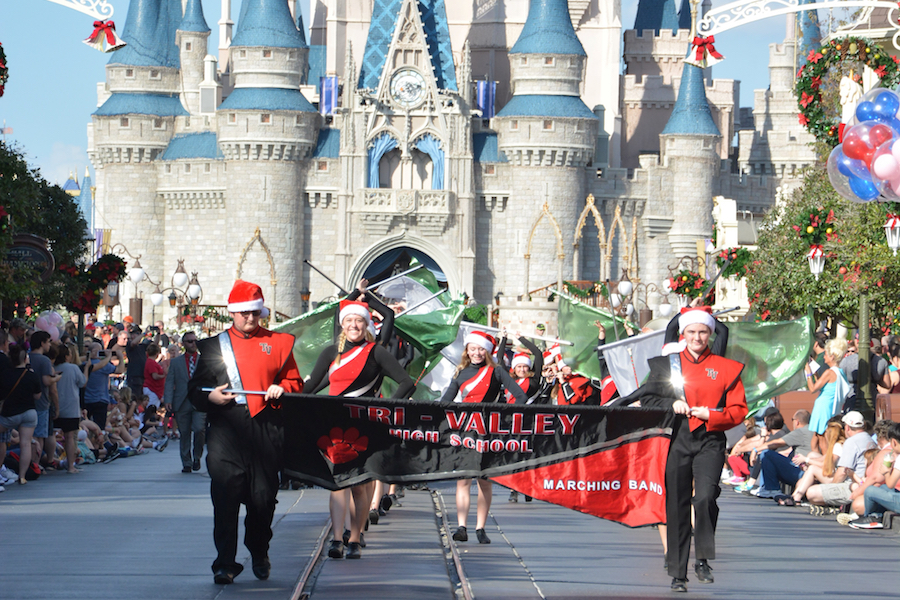 Music Education in Area Schools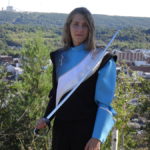 By David Lindenmuth
"I'm going to Disney World!" is a quote typically associated with a championship in NCAA Basketball or the NFL, but it's also a popular phrase among several local marching bands. Tri-Valley (pictured above), Tamaqua Area, Mahanoy Area, and Hazleton Area marching bands have made trips to the Sunshine State in recent years, to march down Main Street U.S.A. at Walt Disney World.
With that being said, one would believe that music education is well-supported throughout the Coal Region. We spoke to several music teachers and band directors for a closer look at music education in East-Central Pennsylvania.
Tri-Valley High School
"Music opens many doors for students, it provides them opportunities to perform at venues, such as Walt Disney World, that many kids never have the chance to do. It has allowed many of my former students to earn scholarships at college, including students who were not majoring in music," Justin Welker, Director of Bands at Tri-Valley Jr./Sr. High School in Valley View stated. "Many of these students have performed at college bowl games and in major football stadiums all across the United States. Music allows students to express themselves without speaking. Students in our program form a strong bond and friendship that lasts many years after they graduate."
Welker said Tri-Valley's high school music program has had the benefit of consistency through the past decade. He has been at the helm for the past eight years, and reports no major changes in the past six years of the high school program.
However, the elementary side is a different story. "Our elementary program has had multiple directors over the last four years and the position has been made part-time. This is beginning to affect the high school program," Welker noted.
Like many music programs, Tri-Valley's is supported by the school budget, a booster program, and grant funding. Also like many music programs, budget cuts have been made to the program, but Welker notes that, with the help of the band boosters, the program has still been able to keep instruments and equipment up-to-date.
Blue Mountain High School
Blue Mountain High School has seen a great deal of success from its band program in competition circuits throughout the Mid-Atlantic Region, including eight Tournament of Bands Northeast Region Championships in the past nine years, three Cavalcade of Bands Class A Championships, a Cavalcade "Open" Class Championship, and has earned a top five finish in the Tournament of Bands Atlantic Coast Championship four times.
Another school music program that has seen consistency in leadership, Christopher J. Evans has been the High School Instrumental Music Teacher and Band Director at Blue Mountain for the past nine years, and has 17 years' experience in education. Evans tells Coal Cracker the program has doubled in size since 2007, and has added a "Football Band," which only performs at Eagles home games, to give students who may not have the time in the fall to dedicate to a competitive program a chance to participate in marching band.
Evans says music "is part of a well-rounded education and is an outlet for personal expression."
Mahanoy Area High School
This past June, Mahanoy Area's Marching Band and Chorus travelled to Disney World to perform as part of a Disney Performing Arts Showcase, under the direction of Allison Kline. The Disney trip adds to a list of accomplishments for the program since 2013, which include a Second Place High School Band in the 2015 Schuylkill County Volunteer Firefighters Convention Parade held in Shenandoah, and three consecutive "Best High School Marching Band awards in the Girardville Saint Patrick's Day parade, from 2014-2016.
The program has a new director this year, James Bishop. Kline resigned from the position at the end of the 2015-16 school year after two years leading the program. She is still the High School Vocal and General Music Teacher, and believes music education is an important part of an educational curriculum.
"Music Education is phenomenal in that it encompasses all other subject areas: Math, Language, Science, Literature, History, Physical Education, etc. By performing in a musical ensemble, students gain confidence, problem-solving skills, stage presence, musicianship, the ability to work as a team and create lifelong friendships and lasting memories," Kline noted. "It is critically important that we continue to fund and support music education in our area schools."
Weatherly Area High School
Weatherly Area in Carbon County is one of the smallest schools in Eastern Pennsylvania, with a districtwide enrollment of only 644, according to the Pennsylvania Department of Education website. With that, they have a smaller music program. Without a football team, Weatherly's band only marches in parades.
Despite the district's small size, Weatherly Area's music program has full support from its district, according to Band Director Daniel Derflinger.
"Music Education is such a unique experience in general but also in public schools specifically. With recent pushes for more testing and subsequent 'teaching to the test,' music stands out with a unique focus on group performance and quality over quantity," Derflinger stated. "I love seeing the diversity of my music students. Many are high academic achievers and rank at the top of their class, but I also have some who are uniquely talented in music but struggle in general academia. I think that in our world which is so focused on cut-throat competition and self-interest, music is a safe place where musicians can be who they are and enjoy being part of something bigger than themselves."
Derflinger tries to teach his students to see the beauty in life through music. "I encourage my students to look for the beauty in the music, but I think they would do well to look for the beauty outside of the music as well," Derflinger concluded.
Hazleton Area High School
Hazleton Area in Luzerne County has had music students performing in several notable locations in the Eastern United States in recent years, including the Grand Ole Opry in Nashville, Tennessee; the Rock and Roll Hall of Fame in Cleveland, Ohio; in the National Memorial Day Parade in Washington, DC; and at Disney World.
For the past two years, the Cougar Marching Band has been led by Joseph Stefanko. Alongside the national performances, the Cougars perform in the Cavalcade of Bands competition circuit and at almost all Hazleton Area football games.
Hazleton Area is the 15th largest school district in the state, according to Niche.com, but surprisingly, its marching band is mid-pack when it comes to the amount of members, with just over 60 marching every Friday night in the fall.
"Music Education affords students the opportunity to practice self-expression and develop skills not only applicable to the discipline itself," Stefanko noted. "Music in the Hazleton Area School district provides a medium for bringing the school community together."