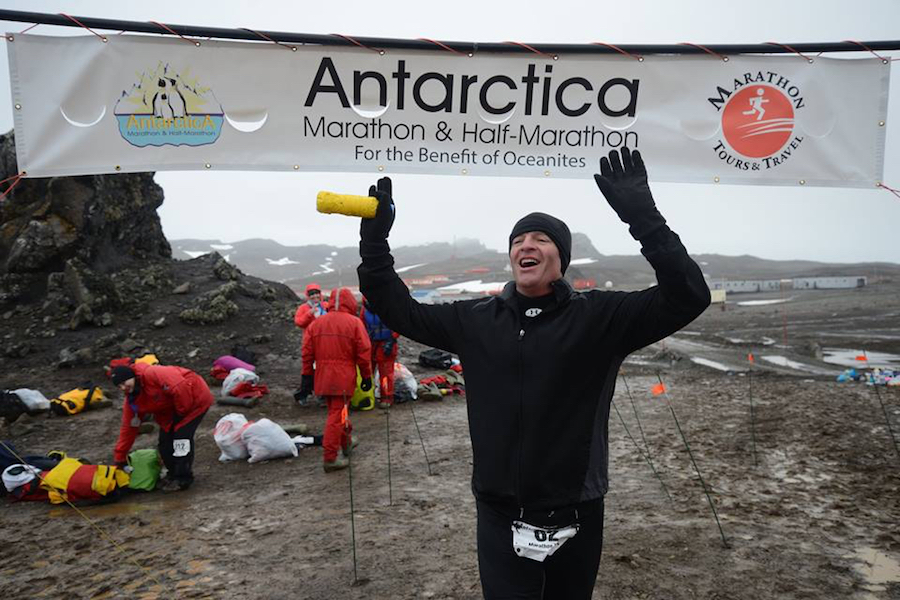 Running Across the Continents
Marathoner Michael Messerschmidt
By Meredith Rhoades
Michael Messerschmidt isn't your typical eighth grade civics teacher; he's an avid runner who has finished a total of 44 marathons. He has run a marathon on every continent and plans to run one in every US state (up to 26 as of February 2016).
Those astonishing feats didn't even seem possible only 10 years ago. Messerschmidt was a smoker for 20 years and, as a result, was not in his best shape when he decided to start running to lose weight and get healthy. Despite running his first marathon in Philadelphia in 2005, he still smoked, and remembers buying a pack of cigarettes after the marathon in the City of Brotherly Love. Even though he was running, he knew he still had to make more positive changes in his life. Fortunately, he was able to quit smoking and is a better person, and runner, because of it, he says.
Running for Change
Messerschmidt set goals, worked hard and is a great role model not only for his students, but for anyone trying to make a change in life.
A native of the Grier City section of Barnesville, Pennsylvania, Messerschmidt graduated from Mahanoy Area High School in 1985. He holds a Bachelor of Science degree in Education from Kutztown University and a Master of Science degree in Education from Lehigh University. He teaches at Orefield Middle School in the Parkland School District, Allentown, Pennsylvania.
Messerschmidt loves to travel and uses his running to plan adventurous trips. From running in freezing Antarctica to tropical Rio de Janeiro, he's seen incredible sights. He's run the Konig Ludwig Marathon in Germany, the Disney Marathon, and the historic Boston Marathon. His favorite sights were the over 2,000 temples and pagodas he saw while running in the Bagan Temple Marathon in Myanmar last year. The people were very kind and helpful as he was running and while he was visiting the tourist attractions, he says.
Coal Region Proud
Messerschmidt credits his Coal Region roots for his success."My Schuylkill County upbringing gave me a great work ethic. I had so many positive role models growing up that wouldn't accept failure as an option," he says. "I think that we, as people growing up in the Coal Region, work hard for what we have and take pride in our accomplishments, no matter how large or small they might be. I wouldn't trade my up-bringing in Barnesville for anything in the world!"
Messerschmidt is a great Coal Cracker role model. He has proven to himself and others that no matter what, if you set goals and work hard enough, regardless of where you come from, you can make anything happen.