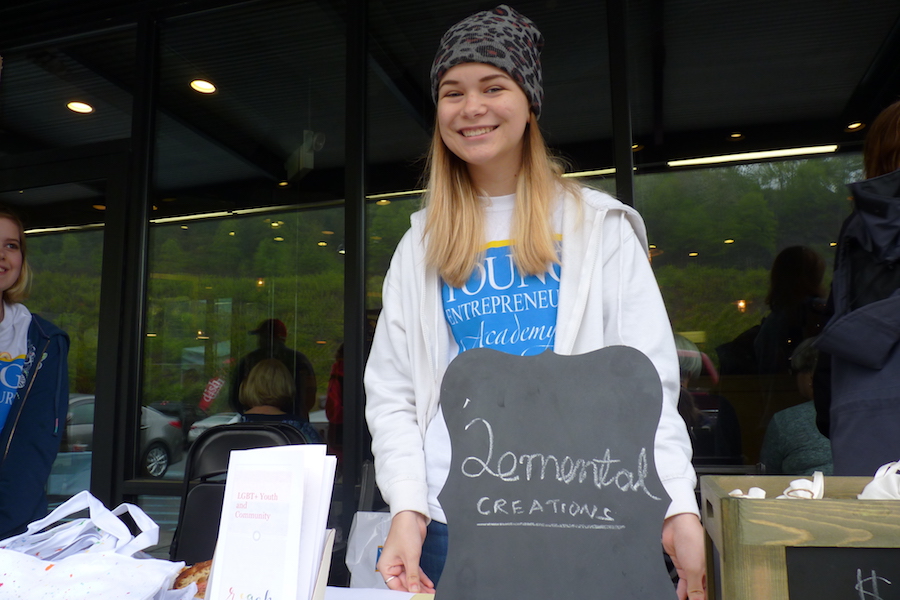 Young Entrepreneurs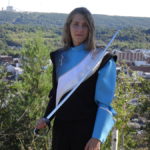 By David Lindenmuth
SCHUYLKILL HAVEN—Could the next Bill Gates, Oprah Winfrey or Mark Zuckerberg hail from the Coal Region? Possibly, and a program hosted by the Schuylkill Chamber of Commerce wants to maximize that chance by equipping students with the skills needed to achieve such a goal.
Through the Young Entrepreneurs Academy (YEA), sponsored by the Schuylkill Chamber Foundation in collaboration with community partners, students in grades six through 12 from schools in Schuylkill County learn the logistics of developing and running a business. The students receive guidance from program mentors¾local business leaders¾while they start their own small business.
This year, 17 students from seven schools developed 14 businesses, which they presented at an investor panel event, held March 22 at the Penn State Schuylkill Haven campus. The event, which drew a crowd of more than 100 to the Health and Wellness Building at the college, gave students an opportunity to present their business plan to a panel of 10 business professionals, in hopes of earning a grant for start-up funding.
Lindsay Griffin, 14, Frackville, pictured above, a freshman at North Schuylkill, with her business 'Lemental Creations, earned $1,500 plus a trip to Rochester, New York. She was named a Saunders Scholar Semifinalist, which included the chance to compete in the YEA! Northeast Semifinal competition.
Semifinal Competition
The Semifinal was held at the Rochester Institute of Technology on May 5. Griffin joined 76 other student businesses from across the country at the event, and had the opportunity to meet Gayle Jagel, CEO and Founder of YEA; and Phil Saunders, benefactor of the Saunders Scholars Competition.
'Lemental Creations specializes in all-natural soaps, based on a region's iconic resources, such as anthracite for the Coal Region. If her business is successful, she intends to donate 50% of all profits to Schuylkill Women in Crisis.
"She did not take home the big prize but impressed the judges and represented all of Schuylkill County very well," said YEA Schuylkill Program Manager Mary Jo Moss. "Evidently 'Lemental Creations had some support among the deliberating judges, for after the presentations in a crowded room of over 300 people, one of the judges approached Griffin to tell her he thought her presentation was excellent. Griffin did a great job networking in this national setting."
Griffin said the program taught her about the difficulties of running a business. "You usually think it's pretty easy. Like, I can just open a business, get a product, and everyone's going to buy it, but you learn that there's so much more involved. You need your marketing, and all your facts behind it to prove that this could be successful before you even attempt to sell your first product," she said.
Future Success
Other YEA participants from Schuylkill County, who spoke to Coal Cracker, felt the program will be beneficial to their future success.
"It was the best opportunity of my life," said Alex Macker, Shenandoah, a sixth grader at Trinity Academy. He developed Happy Tails, a business specializing in dog walking services in the Greater Shenandoah Area, which was awarded a $250 grant at the local investor panel.
"The Young Entrepreneurs Academy was a really wonderful experience. I got to work with different people of all ages from all around the county. It was great to learn how to create a business at such a young age and to work through all the different obstacles that come with creating a business," said Brianna Hall, a seventh grader at Pine Grove Area. Hall developed Reach, a non-profit social movement addressing the needs of the LGBT community, selling tote bags to raise funds for the cause. Her business was awarded a $250 grant.
"If you have the opportunity to do the program, I highly recommend it. It's been great, and we actually have more opportunities following the investor panel, like the YEA Trade Show, where we can sell our products and they're going to help us continue to build our businesses," added Mackenzie Lucas, a Junior at Tri-Valley and Schuylkill Technology Center. Alongside Ashley Strouphauer, a Junior at Schuylkill Haven, she developed Taylor Cosmetics, specializing in a do-it yourself facial kit. Their company earned a $640 grant.
Economic Revitalization
Local business leaders, such as Karen Kenderdine, Vice President of Mid Penn Bank Trust Department, and President of Downtown Shenandoah, Inc., told Coal Cracker she believes the program is important for the county, to assist in revitalization by addressing outmigration, equipping local students with the skills needed to "be the creators of jobs… so that they can come home and be the leaders of the change that we need in the county.
"Shenandoah, which is in a period of rebirth, could use entrepreneurs to come back and help the area. It's invaluable to have our youth become entrepreneurs and start businesses and fill the empty storefronts and rebuild our communities," Kenderdine added.
Robert S. Carl Jr., President and CEO of the Schuylkill Chamber of Commerce agrees. "Small business and start-ups are the essence of what drives the US economy. Supporting young people in making sure that they have the opportunities to live out a big idea and make a pitch and launch a business is important for community growth, economic growth, and for the success of young people."
Apply Now
Applications are currently being accepted for next year's YEA class. Tuition is $495, but scholarships are available. For information on how to apply contact:
570-622-1942 or 800-755-1942
Or, download the application now.
The application deadline is September 30, 2017. Classes meet every Tuesday evening from 5:30 pm to 8:30 pm at Penn State Schuylkill Haven campus beginning in October.