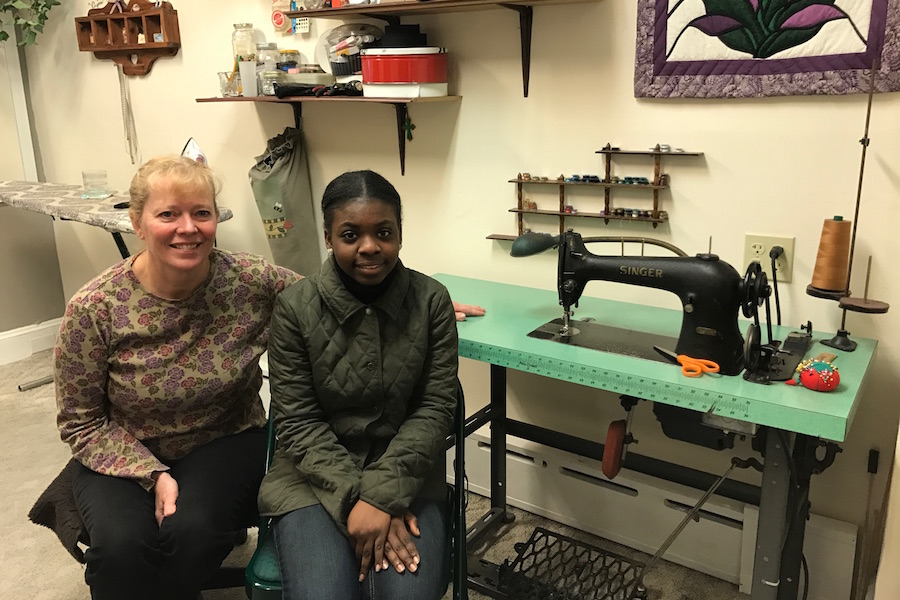 Meet Virginia Laurusevage
By Emma Shaller
Many people may know Virginia Laurusevage as a local seamstress with a shop at 439 East Mahanoy Street, but there are a lot of things you may not know she has done for our community. For example, she has made tons of beautiful things for people, from banners, to costumes, aprons and many more. She has planted flowers around the town.
What many people don't know is that she is not even from Pennsylvania! She is originally from Berlin, Wisconsin, where she grew up on a 150-acre farm. She was a sergeant in the Air Force during which she travelled to many different places like Arizona, Iceland, Germany, Africa, Spain, Portugal, and France. She then moved to Mahanoy City after meeting her husband, Lenny, in the Air Force (she was his boss). They got married and moved back to the coal region that is his home. After living here for 28 years, Virginia doesn't want to leave because she says the people are so generous.
Eventually, Lenny opened a motorcycle shop that they wanted to have their sons, Lucas and Marshal, take over. Then Lucas entered the Air Force, and Marshal joined the Marines. So Virginia went to school and learned how to inspect autos.
But that's not all she does. She also paints, is a wood worker, and has made jewelry.
She operates the sewing shop with her 15-year-old assistant, Armelle Metellus. Virginia got into sewing when she was 9 years old because she wanted clothes for her Barbie dolls, which she couldn't afford. So she used her mother's old scraps of fabric to create them. She developed this skill by learning and watching her mother, also learning in school, and just being creative and experimenting.
Virginia has stuck with this activity so long because she says, "Learn a trade and you will never go hungry." Also, it allowed her to stay home with her sons. "I am the most practical person you will ever meet," she explains.
Virginia's shop is decorated with many beautiful paintings that she has done, but her all-time favorite hobby is gardening. She says gardening is her passion, and she would do it 24 hours a day if she could.
It is clear that Virginia Laurusevage does many interesting activities. "I am not perfect at anything, but I like to do everything," she confesses. Virginia has continued to move forward and try new things. "You can do anything you want to do," she says. But 'you gotta wanna.'"